PhD thesis
"Dimensionnement & gestion d'un stockage d'énergie pour l'atténuation des incertitudes de production éolienne", defended at ENS Rennes, July 2014
(i.e. "Sizing & control of an energy storage system to mitigate wind power uncertainty")
Manuscript (in French). presentation slides (in French)
Prize: I'm colaureate of the 2015 Paul Caseau Prize, awarded by Académie des Technologies & Fondation EDF.
Journal articles
P. Haessig, B. Multon, H. Ben Ahmed, S. Lascaud, P. Bondon.
"Energy storage sizing for wind power : impact of the autocorrelation of day-ahead forecast errors", accepted in Wind Energy, September 2013
(article - author version, 0.5 MB pdf file)
Conference articles
Conferences & Workshop presentations
---
Master Thesis
I did my Master internship in Spring 2011 with Pascal Bondon (webpage), senior researcher at the Signals & Systems Laboratory, Supélec Gif-sur-Yvette. The purpose of this work was to characterize statistically some aspects of the uncertainty of wind power production.
---
Real-time Simulation of Power Electronics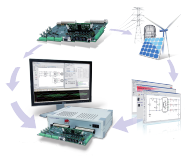 Publications related to my previous work on Real-time Simulation of Power Electronics is on my Mendeley profile or on Typhoon HIL publications page.
---
Copyright notice
For all IEEE manuscripts: IEEE policy towards "electronic information dissemination" is described in the IEEE PSPB Operations Manual, section 8.1.9. In particular, copyright may be transferred to IEEE without notice, after which preprint versions may no longer
be accessible.